Brunetti Oro Celebration Cakes Delivered to You
Next Day delivery - Melbourne Wide for orders before midnight
We bring the delight of gift-giving and sharing special occasions with loved ones straight to your door. Choose your special celebration cake from Flinders Lane, Myer, Brunswick, or our new-look online store, and we will deliver it directly to you! All our traditional cakes are made with high-quality ingredients and craftsmanship in true Italian tradition. Ordering online has never been so easy!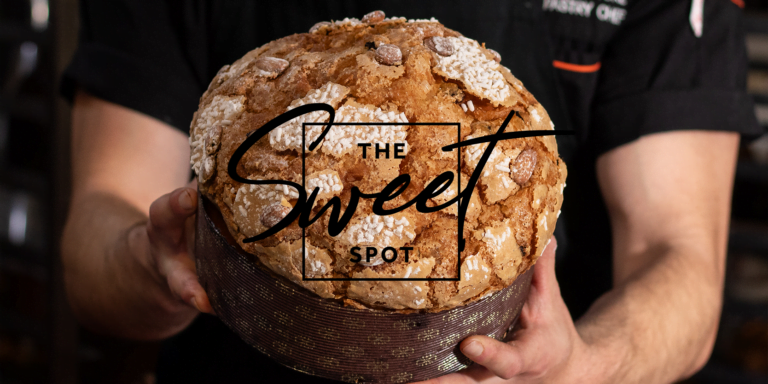 Is this Melbourne's best Panettone? It's a big call to make, given the sweet bread's popularity in this city, but even still, we think we can throw our hat in the ring.
Read More
Brunetti Oro, a renowned Italian Pasticceria, traces its roots back to 1943 when Giorgio Angele began his training as a pastry chef in Rome.


In 1956, Angele joined the Italian Olympic team in Melbourne as their pastry chef. Embracing the opportunity to stay in Australia once the Olympics was over, he then opened his first cake shop in Kew East the same year.
Angele eventually purchased a café called Brunetti in 1991, and under the Angele family's guidance, Brunetti expanded to multiple locations across Melbourne and even established franchised stores in Dubai and Singapore.


In 2017, a brand-new flagship store opened its doors in the heart of Melbourne CBD on Flinders Lane. The store features cake-filled fridges lining the entryway, cutting-edge coffee machines brewing an exclusive Brunetti x Lavazza blend, and a 300-seat restaurant serving fresh traditional Italian breakfast, lunch, and dinner.
In 2021, Oro was launched as a new chapter, led by Giorgio's son Yuri Angele. Embracing innovation while staying true to Italian cafe roots, Brunetti Oro now offers a state-of-the-art online store and a new location in Brunswick, continuing to delight customers with their authentic Italian cakes and pastries.