Teacher, cleaner, chef, doctor, storyteller, referee, entertainer, friend, confidant, protector, and all-around superwoman. Your mum sure has worn a lot of hats and taken on so many roles throughout your life. It's time to show how much you appreciate her effort over the years. We've put together a Mothers Day gift guide so you can find the perfect way to say thank you with an edible gift from Brunetti Oro.
Torta Di Mamma Rosa
Made with white chocolate and rose flavours and a pretty pinky-orange colour, this delicious mousse-based cake was made especially for Mother's Day. Each cake comes with a chocolate Happy Mother's Day plaque included.
Mother's Day Chocolates
Our beautiful hand-crafted chocolates make the perfect Mother's Day gift. Each box contains creamy white chocolate shells filled with either rose-infused dark chocolate ganache, soft caramel or dark chocolate raspberry ganache. Available now in 6, 12 and 24 piece boxes.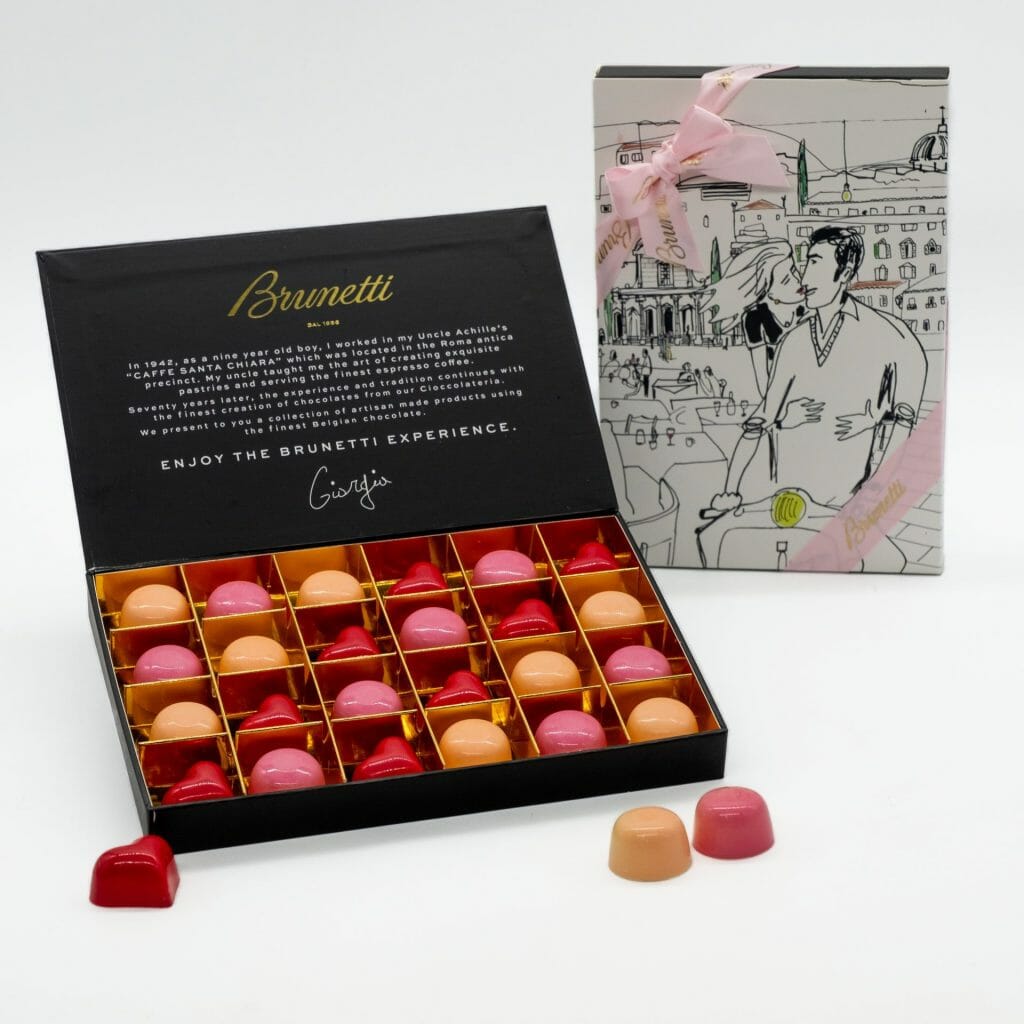 Large and Small Hampers
Brunetti Oro have a range of hampers designed for gifting. Each box contains a carefully selected assortment of our popular products, giving a taste of the wide variety we have to offer.
You Might Also Like…
Brunetti Oro are famous for our coffee, and for good reason. However, what you may not know is we also have a range of teas, perfect for those out there who prefer a different kind of brew. Sourced from Sri Lanka our teas were hand picked by tasters, ensuring complete premium quality. Each tea comes […] Read More…

Teacher, cleaner, chef, doctor, storyteller, referee, entertainer, friend, confidant, protector, and all-around superwoman. Your mum sure has worn a lot of hats and taken on so many roles throughout your life. It's time to show how much you appreciate her effort over the years. We've put together a Mothers Day gift guide so you can […] Read More…

Picture this: You're at a party and it's time for cake. The host brings the cake around the corner, oh boy it looks delicious. Sadness rolls over you, once again you'll have to look and not touch. Damn your beautiful body's inability to correctly digest gluten. You sing happy birthday, and the birthday girl blows […] Read More…